Information in English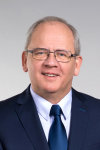 Dear Visitor,
welcome to the sites of the District Government of Lower Franconia. Here we offer you some up-to-date informations on our work and services. At the same time you will be introduced to our home district, the district of Lower Franconia.
We hope you will enjoy your visit and find the information you need.
It is our daily job to increase our web site program and to keep it up-to-date. Also it is our ambition to offer more information in English language.
May be you will come back to our web sites, if we cannot welcome you in the "real" Lower Franconia.
Dr. Eugen Ehmann
President of the District Government of Lower Franconia
Informations